Songs and Music of Ireland & Scotland,
plus original instrumentals
Featuring master musician Dáithí Sproule on guitar and voice with multi-instrumentalist Laura MacKenzie on flutes,
whistles, pipes, concertina and voice.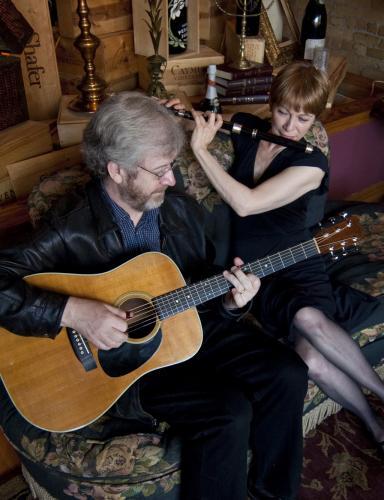 Dáithí Sproule, well known for his pioneering guitar styles, deep knowledge of Irish song, and his place in the internationally acclaimed ensemble Altan, is a brilliant musician and a virtual font of cultural knowledge and lore. He has been a major force behind the success of traditional Irish music in today's popular culture.

Multi-instrumentalist Laura MacKenzie has received an abundance of honors and awards for her work in traditional music, both Irish and Scottish, and is quite unique in the diversity of her instrumental skills. For many years Laura has been at the heart of the revival of Irish music and dance in the Upper Midwest, and has performed across the nation.



Sproule and MacKenzie have been making music together in various ensembles for decades, and now present a wonderful concert duo, featuring a rich gamut of traditional Irish and Scottish music and song, plus Dáithí's recent compositions. A selection of their music can be enjoyed on The Pinery CD. (Sound Samples)

"A gem of a recording…this CD by master musician Dáithí Sproule and Laura MacKenzie is a beauty…some of the finest traditional music you will hear" - Irish American News

Dáithí and Laura's performances are delightful soundscapes of music and song woven together with the lore learned over lifetimes in traditional music. MacKenzie's arsenal of wind-powered instruments (wooden flutes, whistles, various pipes, and concertina) are all featured, joined by Sproule's fresh, famous and innovative guitar accompaniments and solos. They are both esteemed singers as well, and selections from their treasure trove of traditional song are presented in beautiful arrangements.

In conjunction with concert dates, Dáithí and Laura offer clinics and workshops such as: Traditional Songs in Irish and English, Guitar Accompaniment, Irish Myth and Legend, Learning the Tin Whistle, Irish Flute Techniques, Irish and Scottish Repertoire, Music and Song of the Lowlands of Scotland.

"What a delight to hear your music.  We  just loved the wonderful concert you and Dáithí graced us with. If fires us up!"- Silver Lake College,  Manitowoc, WI, 2013. 

Their Sound:
Dáithí Sproule & Laura MacKenzie take the stage with an arsenal of instruments (guitar, wooden concert flute, wooden low C flute, wooden F flute, fife, traditional tin whistles, low pitched whistles, concertina, Scottish Smallpipes, Border pipes, French Cornemuse, gemshorn...), decades of solo and duo music history, and two fine voices. All of this provides a changing spectrum of timbres, dynamics, energy and visuals. More than most any duo in traditional music today that anyone could possibly mention.

Their Repertoire:
Both Dáithí and Laura have been professionally immersed in music for many years. Their individual repertoires contain music common in the realms of traditional music, but also abound in the rare, rich and unique. Their specially selected and honed concert repertoire is broad and bountiful, containing music from a variety of Celtic traditions, creatively arranged for their particular instrumentation, plus an occasional newly composed piece rooted in tradition.

Their Musical Arrangements:
Sproule & MacKenzie's musical arrangements are conceived to bring out the individual nature and qualities of the songs and tunes, using the varied timbres, pitches and dynamics of Laura's grand array of instruments, Dáithí's internationally acclaimed guitar stylings, and the trading and combining of their voices. It is accomplished duo music, brimming with variety, expertise, knowledge and musicality, specially developed to take advantage of their musical prowess as a twosome.
 
Music from Dáithí Sproule & Laura MacKenzie:
0:00/3:18

0:00/2:40

0:00/1:43
Additional information on Dáithí Sproule:
Dáithí Sproule of Derry, whose first group was the legendary Skara Brae, has lived for many years in Minnesota. He is one of Irish music's most respected guitar accompanists, and one of the first guitarists to develop DADGAD tuning for Irish music. He is also a fine singer of traditional songs in Irish and English, and is known for his innovative song arrangements. As well as his work in the Irish supergroup Altan, Dáithí records and performs with Irish and Irish-American luminaries such as Liz Carroll, Billy McComiskey, James Kelly, Paddy O'Brien, Tommy Peoples, Seamus and Manus McGuire, Randal Bays, James Keane, and many others. In addition to his performing life, Dáithí is a composer of tunes and a teacher-lecturer in subjects ranging from guitar styles and song accompaniment to traditional music, language, legend and literature. He has released a solo CD of his guitar arrangements and compositions, "The Crow in the Sun", and also an album of songs featuring many illustrious musical colleagues, "Lost River, Vol. 1", both on New Folk Records.
"One of Irish music's greatest guitar accompanists" –Steve Winick, All Music Guide
"A seminal figure in Irish music" --The Rough Guide to Irish Music
 
Additional information on Laura MacKenzie:                                                                 
Multi-instrumentalist and singer Laura MacKenzie has been recognized as a Master Folk Artist by the Minnesota State Arts Board, and has received numerous additional honors as a performing artist. Laura was selected for the original "Cherish the Ladies" series, concerts which featured noted women in Irish music in America. Her musical prowess spans an array of wind-powered instruments including wooden flutes, whistles, various bagpipes, concertina, gemshorn and voice. In addition to her concert performances with Dáithí Sproule, Laura performs solo, with Laura MacKenzie and the Lads, Willow Brae, Ross & MacKenzie, and Brass Lassie. Laura has been the producer of some great shows of traditional music and dance, and also produced a recording of traditional music that sold over 575,000 copies worldwide. She has recorded with Boiled in Lead, Dean Magraw, Peter Mayer, Ann Reed, Peter Ostroushko, Ann Heymann, Katie McMahon, Gary Rue, Paddy O'Brien, Dakota Dave Hull, Lorie Line, Billy McLaughlin....and has released three of her own CDs on the New Folk Records label, "Laura and the Lads", "Evidence" and "Heigh Ho, the Green Holly". Dáithí and Laura also collaborated on MacKenzie's "From Uig to Duluth" recording.
"Celtic music wizard" -–Minneapolis Star Tribune
"High Priestess of Celtic music" –Minnesota Public Radio