Laura's News
Twinflower: New Swedish Flute duo, with Amy Shaw.
The Ceòlacanth Project: Read the news right HERE.

Check out: "The Piper's Pandemic Postcard" on the HOME page, 
a video collage about one piper's experience of the times.
Shop News: All CDs are available as downloads from this website, and most are
also available as physical CDs.It is always best to purchase directly from the artists!
2023: Swedish Music on the wooden flute: Laura received a 2020 fellowship award from the American Scandinavian Foundation of NYC! Originally planned for the summer of 2020, Laura studied Swedish wooden flute with two masters in southern Sweden, along with St. Paul flute-player Amy Shaw, in 2023.  Concerts coming in 2024!
2022 was a year of new and renewed projects, the rejuvenation of old favorites, and the  continuation of favorite programs and shows.
2022 saw: A return to Scottish music research, collaborations with poets, more shows with "The Young & The Rest" (Billy McLaughlin and SimpleGifts' show featuring the music of Neil Young and more), developing Brass Lassie's unique repertoire, debuting a new duo with Michael Bissonnette (percussion) and presenting a number of popular Solo Programs around the region and on-line.
2022/2023 Recording projects: A new project featuring duo performances of traditional music players 65+ resulted in an album launch spring 2023. (More info HERE).
2020 - 2021: Despite the cancellation and postponement of many events, Laura enjoyed performing with Willow Brae, Brass Lassie, guesting with Neil Gunn & The Gunn Slingers, and performing holiday concerts and "Young & The Rest" shows with SimpleGifts and Billy McLaughlin.  We expect all of these projects to return heartily in the 2022.

2021: Laura performed in 12 unique livestreamed musical revues with Billy McLaughlin & The Church of the Lost Souls in Minneapolis. These will return, for a new series.
The summer of 2021 brought the return of "MacKenzie, Sproule & Sutter". And Laura was also pleased to join the Irish/West Africa fusion ensemble "Cumar", directed by Sean Eagan. See our photo below, on stage at the Irish Fair of Minnesota.
Solo Programs:  Laura has created several new solo programs for 2022,  including "The Outlander Series & Traditional Scottish Music" (episodes one & two) which are destined to become favorites. A concert version of this program is also being offered as Outlander: Scotland's Music. Also new is "The Irish Piper", a re-telling of The Pied Piper story. Based on the children's book by Minnesota author Jim Latimer, this program is full of traditional music. And a special Scottish Heritage in Minnesota is celebrated through the program "From Uig to Duluth". Soon to be added to the roster: "For the Birds" - a program of wonderful and varied chicken-themed traditional music and real-life stories, inspired by MacKenzie's volunteer work in fostering rescue chickens.
Brass Lassie:  Brass Lassie is back as a live ensemble! With some fabulous new members, plans for new arrangements, and guest percussive dancers. Our 2022 video creation can be video right HERE.
Join the mailing list for news and events!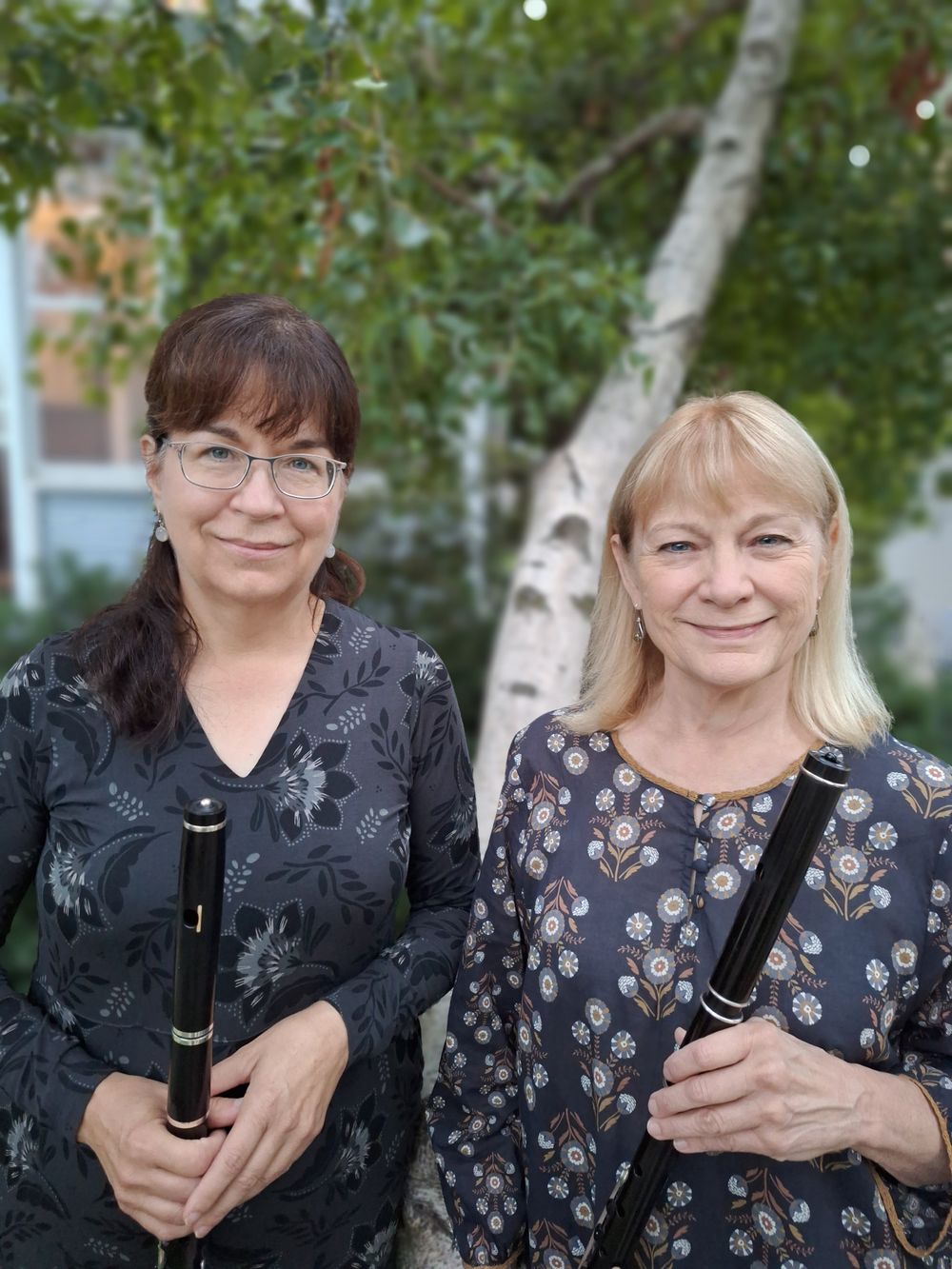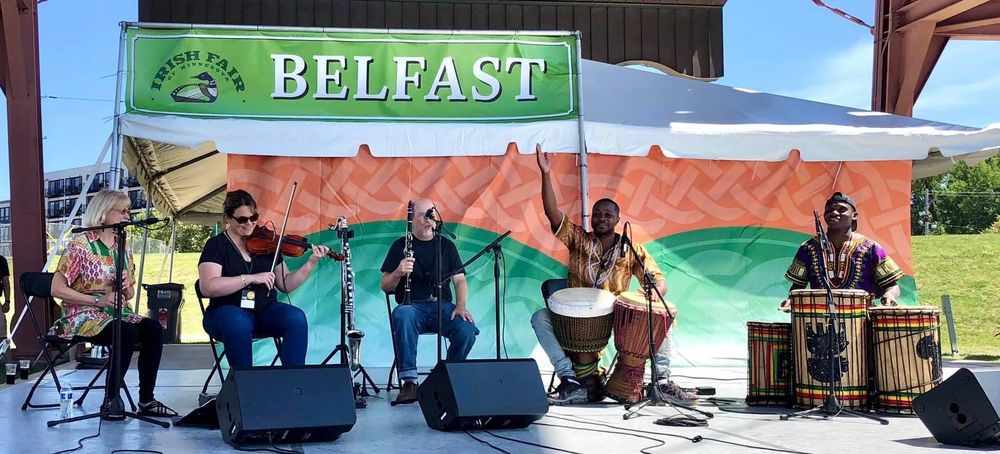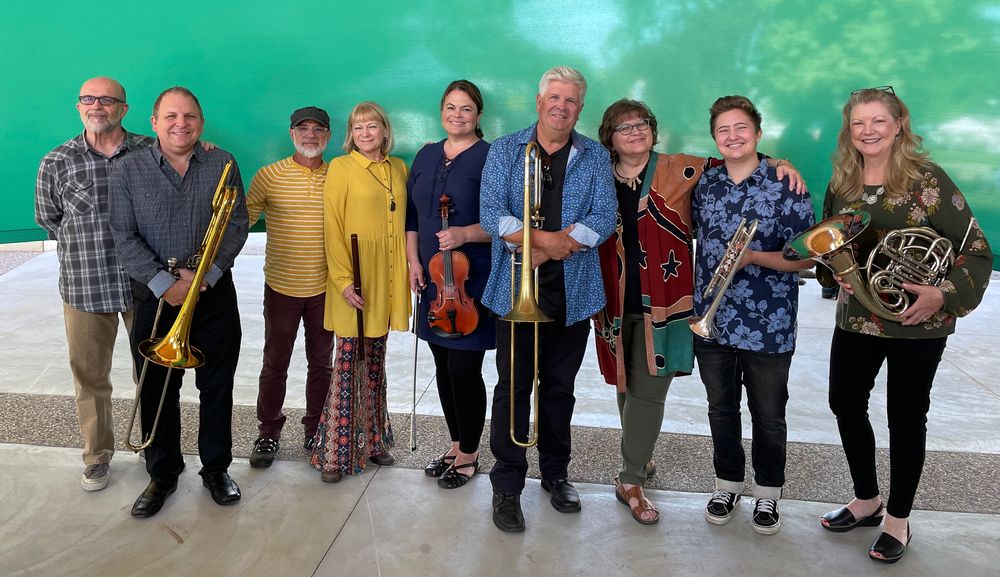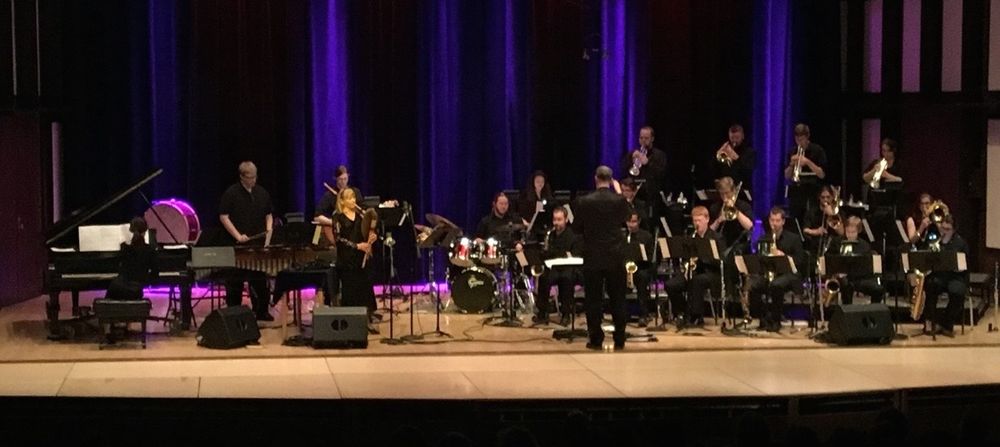 Over past and recent years....


 
--- Brass Lassie: BRASS LASSIE debuted summer 2016 at the Minnesota Scottish Fair. This trad big band performs extraordinary arrangements of traditional music, featuring a four-piece brass section. Peter Enblom is on board as horn arranger, and we also perform arrangements by Dr. David Milne. Our debut studio recording is "Brass Lassie", available at our website: Brass Lassie.com
.
--- Poetry & Music: Another dream come true, musical collaborations with favorite poets Michael Dennis Browne, Deborah Keenan, Sharon Chmielarz and Angela Shannon. More to come!

--- Stories & Music: Kevin Strauss (award winning Minnesota author and storyteller)  invited Laura to collaborate on a series of programs. The concert programs of stories and music have been: Heroes and Heroines, Heroes and Heroines of Ireland, and Animal Heroes. Laura brought many world music tunes to these fun programs.

--- World Music & Jazz: Laura was deeply honored to be the guest artist in several exciting collaborations -- including One World Consort (Earth Day Concert) and the UWRF 20-piece Jazz Ensemble (University of Wisconsin-River Falls RADD Jazz Series "Universal Language" concert), both directed by David Milne. Dr. Milne's ensemble and jazz arrangements of traditional music plus some of L MacKenzie's tunes are just terrific. And One World Concert got to reprise this music at the Celtic Junction Arts Center.  In 2018, Laura was honored to collaborate and perform with the jazz ensembles of St. Olaf College, under the direction of David Hagedorn.

--- Steerage Song: The wonderful Lake Superior Big Top Chautauqua in Bayfield, Wisconsin mounted a production of "Steerage Song" (premiered by Theater Latte Da, 2013) and Laura got to reprise her musical role in this entertaining, informative and deeply moving docu-musical. Long may it live!

--- Scottish Music & Piping Schools: Lovely honors - Laura was invited to teach Scottish flute, smallpipes and song at the Boston Harbor Scottish Fiddle School, plus an invitations back to The Pipers Gathering in Connecticut! Great times, vibrant schools and workshops. 

ALSO...
--- Scottish Song and Tune groups:  These workshops on Scottish tune repertoire, Scottish songs & Gaelic song have been most enjoyable, and there will be more to come! Laura shares a selection of tunes and songs at each meeting, with notations and lyrics provided - plus tea and cookies. Fun and informal, for any singer or melody player with an interest in learning more Scottish music! Join the mailing list on the HOME page for notices. These workshops will return in 2022.

--- Scottish Cèilidhs at The Celtic Junction Arts Center:
We began a tradition of Scottish-style ceilidhs in 2016. They were a great success, plus loads of fun. The first half of these evenings was an opportunity to get up and give a song, a poem, play a tune, even tell a story - or just sit back and enjoy the cèilidh atmosphere with a beverage from the cash bar.  For the second half, we pushed back the chairs and enjoyed Scottish cèilidh dancing with music by the fabulous Neil Gunn & The Gunn Slingers. This tradition has now been taken on by Neil Gunn & the Gunn Slingers, with monthly events at the Celtic Junction Arts Center in St. Paul. These will return in 2022.

--- Orchestral debuts: Dáithí Sproule, Mary Vanory and Laura have been guest artists with the Cannon Valley Regional Orchestra, performing music originally arranged for Altan & the RTE Orchestra.

--- Christmas Season: Always a pleasure to reach the season of SimpleGifts holiday concerts. Our most recent recording is "This Christmastide", and we look forward to our annual Christmastide tour.

--- Year 'Round: Regional concerts and programs, Solo or with Willow Brae, Brass Lassie, Dáithí Sproule, Ross Sutter, SimpleGifts as "The Young & The Rest", and more.